The world of rock shoe manufacturing doesn't stand still for long and this year is no exception. The June edition of Climber magazine is on the shelves and it features a review of no less than thirteen pairs of new shoes by yours truly selected from two categories – beginner, intermediate and all-rounders shoes and specialist performance shoes. If you're in the market for some new shoes it might be worth taking a quick look through as there's some surprises in store…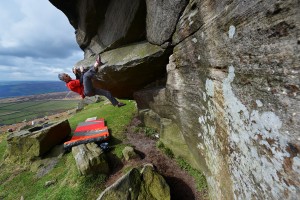 I, like many climbers, have had my favourite shoe manufacturer for years – 5.10 in my case. However, doing back-to-back shoe reviews for the last two years (see below) has opened my eyes to new products on the market today. More and more though I see experienced climbers trying new shoes looking for any advantage they can get – in my case to buy-back age-related declining performance!
Although most of the shoes tested are brand spanking new, typically they build on previous designs and features looking to spring-board off popular feature sets. Unusually though, some manufacturers have gone retro for 2014 and have re-introduced slightly remodelled shoes from yesteryear.
I commented last year to the effect that there was a huge number of rock shoes on the current market and there's more coming to market all the time. That trend seems set to continue. Similarly, there's a veritable mix of lace-ups, velcros and slippers as well as low volume/narrow fit to high volume/wide fitting shoes. Surprisingly, all five of the specialist performance shoes tested are slipper-based shoes with some throwing-in a Velcro closure as well to supplement fit/performance. Perhaps this is proof that slipper/velco fastening shoes are now more popular than traditional lace-ups.
Included in the 2014 review are the following shoes: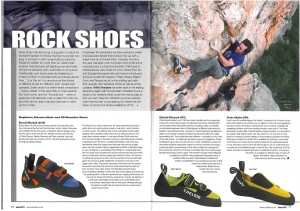 Beginner, Intermediate and All-rounder Shoes: Boreal Marduk, Edelrid Blizzard, Evolv Addict, Evolv Defy and Elektra, Five Ten Guide and New Pinks.
Specialist Shoes: Boreal Satori, Boreal Dharma, Edelrid Cyclone, Evolv Nexxo, Scarpa Stix and the Tenaya Ossi.
Here's some visuals to check-out too…