So, as spring slips away and we flip over to summer it's a good time to reflect on what we've achieved thus far – and then to enviably project forwards! I think that spring is perhaps the most uplifting time of the year; winter's over and suddenly everything starts to rejuvenate as though by magic. Green shoots emerge all over the place and a cornucopia of flowers follow soon after. Spring is a time to start over; leave the comfort of the climbing wall, and go and get acclimatised to slick, slopey (non-coloured) footfolds on new climbs as well as to try a few new activities. As a photog, it's a great time to capture new photo opportunities…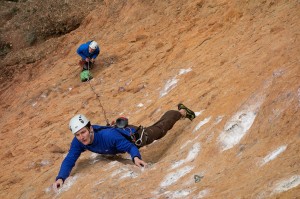 As springs go, 2014 has been pretty dandy for me I'd say. It's been a time to get back into climbing slowly so that old injuries are carefully managed. It seems to be going OK at the moment and although it's been a slow and careful progression just before Easter I pulled in what I think might just be the best route I've ever done – ever! And given I've been climbing a shade over 40 years, it must be good – right? What's that you say – what's the route? OK, if you really wanna know, and obviously you do, it La Fiesta de los Biceps at Riglos. I'm holding back on this one but I'll give you a taster right now.
Meanwhile, back on planet home, Garage Buttress at Stoney has been a great venue and one which just keep on giving! Easy access, virtually perma-dry and some great climbing – though not (thankfully) to everyone's taste! Oh yes, and there's some selfies I shot whilst doing a rock shoe review; a piece of cake using the intevalometer which is in-built in the D800. Non-climbing subjects have featured a fair bit of super-rich and season flora, such as bluebells and wild garlic, with some family-based biking shots and even a yoga shoot thrown in for good measure!
Photographically it's been interesting too. Not though for what I've been shooting, more for what I've been shooting on. When I'm looking for the absolute max my go-to camera is my D800. However, if 'light is right', then it's the Sony RX100 without a question. I've lugged my D800 up routes before and it ain't fun! Amazingly though, and like most folks these days, I'm anyway packing a camera even it's the 8mg camera on my Samsung Galaxy. It doesn't hold a candle to either of the other two if the chips (sic!) are  down, but it's a whole load better than nothing and for on-line consumption it holds up pretty OK. Horses for courses you might say!
Here's my spring collection then for you – shot on any one from the D800, the RX100 or the Galaxy…