Thanks to a bicep tendon problem I've been (seriously) 'off-topic' for the last few weeks. Three numbers however, have provided a focus for my activities: 422, 19.8 and 6.3…
Seeing them like that they look like random numbers with little significance to anything. OK, let's add some units: 422m, 19.8km and 6.3km. Maybe that's better then? As they're distances, the inference is that we're talking some kind of journey is involved – but what? Here's some more numbers to add into the mix: 422m, 19.8km with 247m elevation gain and then finally, 6.3km with 157m elevation gained. So, we're nearly there: more numbers and a bit more info and lets repeat again: 420m swim, 19.9km with 247m elevation bike and 6.3km with 157m elevation run. For those in the pain business, ie triathlons, these numbers represent the Hathersage Hilly; a sprint distance triathlon based in the Derbyshire village of Hathersage.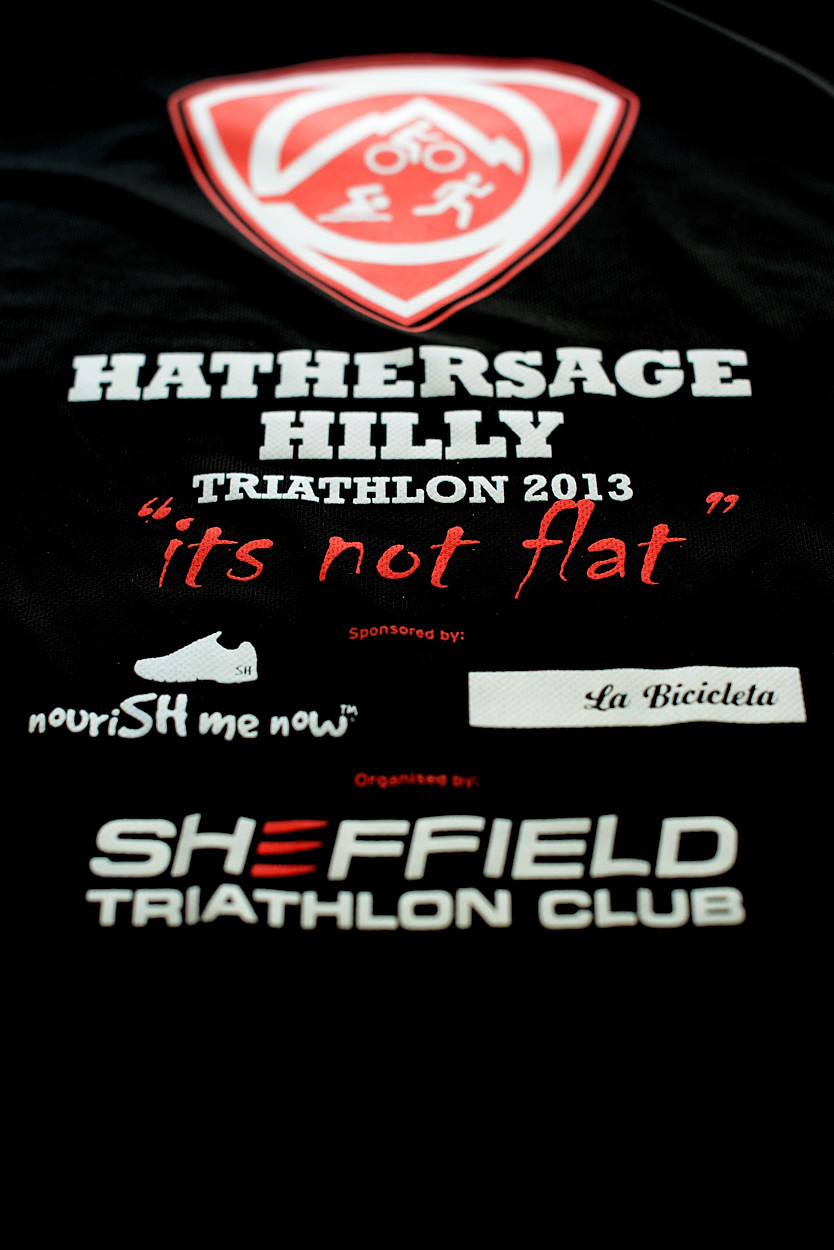 In total, 324 individuals/teams coughed-up a chunk of cash to enter said event and put themselves under the cosh for anywhere between c.1:15 and c.2:30hrs. It all seemed like a great idea at the time I entered, but by the time I'd hit the start of the hilly section of the run over an hour into the event I quickly re-evaluated my earlier thoughts and chalked it up as more of my more stupid ideas! I'd done a bunch of training but frankly, the run was feeling nails and I'd not even got to the steep section at that point. The clue is in the name of this race and a further hint, for Strava users, is that the killer segment is euphemistically tagged as the 'Ski Slope' on-line.
The swim and the bike legs both went well for me and in the end so too did the run leg largely thanks to the steep downhill section in the second half of the race. Knackered, but pretty chuffed with my times, I fell over the line feeling like I was truly worked! The event T-shirt (above) produced by the organisers, Sheffield Triathlon Club, proclaims "its not flat". The Hilly is many things but as they say, it sure as hell isn't flat! Check-out the event website here or some of the snaps (race shots taken by my daughters) below but be warned, they ain't pretty.
The Hilly was a great distraction whilst the bicep sorted itself out but I figure it's time now to get back to the (serious) business of climbing now – probably…