April 27th, 2016
Question: what have Harewood House, Whitby Abbey, Steve McClure and Scarborough all got in common?
Answer: they are all appearing on VisitBritain website pitching Yorkshire to the French as part of promotional drive for the Tour du Yorkshire which – as you all know – starts tomorrow, April 28th.
So, Q&A over; what that got to do with me or my photography. That's simple – I'll explain.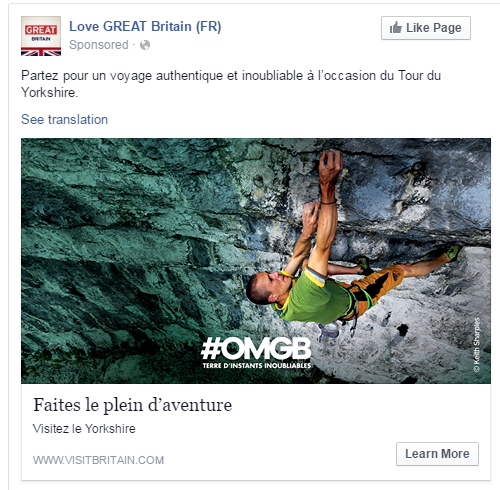 Amongst the millions of images out there I'm chuffed to say that Visit Britain have used an image of mine featuring Steve McClure on Overshadow at Malham as part of the promotional drive to 'sell' both Yorkshire and the Tour du Yorkshire to the French. Turns out, that Visit Britain are using four disparate images, one each featuring Harewood House, Whitby Abbey, Steve McClure climbing at Malham Cove and a group of Sky cyclists at Scarborough, as a hook to get our nearest neighbours over here to take in the scenes. Said images, complete with accompanying graphics et al, are being sprayed to your friends across the English Channel right now…
Top French climbers have – as we all know – ventured across the Channel from time to time in the past; that's hardly a revelation, if you get my drift. Many top French cyclists came over a couple of years back for the Grand Depart to the 2014 Tour du France. So maybe selling Yorkshire to the French won't be quite as hard – as the saying goes – as selling ice to the Eskimos?
Be that as it may, I'm pleased to been able to help out with a pix of Steve on Overshadow. Maybe if they hang on a day or two I can get some shots of Steve when he tops out on his super project just to the right of Overshadow?
Anyways, here's the images/pages being sprayed into France right now…