In case you haven't seen it yet, Climb #89 showcases The Big Three – the limestone giants that are Malham, Kilnsey and Gordale – claiming them to be "this country's true limestone capital". It's a grand piece running to 12 pages, sans adverts, written by devotees Steve McClure, Stuart Littlefair, Steve Crow and Karen Magog. I'm totally chuffed to have a total of six images illustrating the piece, including a double page spread of Steve McClure on Overshadow (F9a+)…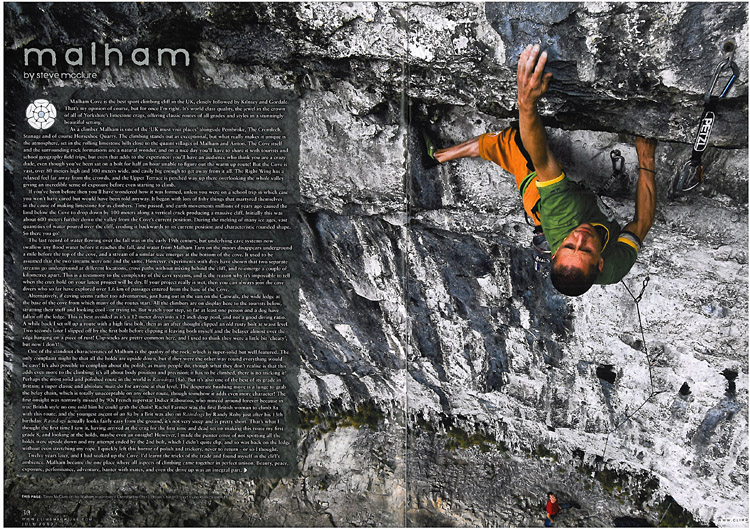 I first visited and climbed at these venues back in the early Seventies and I've been going back on a frequent basis ever since. I'm far from being the only migratory climber to have been totally smitten by these three crags. They've gotten, it seems, into our DNA – much as they did for Adam Ondra. He visited for two years running and bagged the biggest and best tick-list of any visiting foreign climber.
The Big Three are certainly amongst the finest cliffs that we have in the UK – that they are located within a metaphorical stone's throw of each other is a happy coincidence for us 'locals'. Following more than half a century of development they now represent some of the best trad and sport climbing that exists on our fair isle.
In my view there's very little not to like about them – maybe the midges at Kilnsey in the summer or the endless hordes of tourists traipsing through Gordale. But don't take me word for it – go pay a visit yourself. Here's a gallery of images published in the piece along finishing with a shot of Ondra battling on the crux of Overshadow during his first visit. Enjoy…