Having been around the block a few times I'm in a great position to be able to contribute to Climber magazine's UK Classics. My latest offering, Debauchery, is a rather nice double page spread in the Oct edition…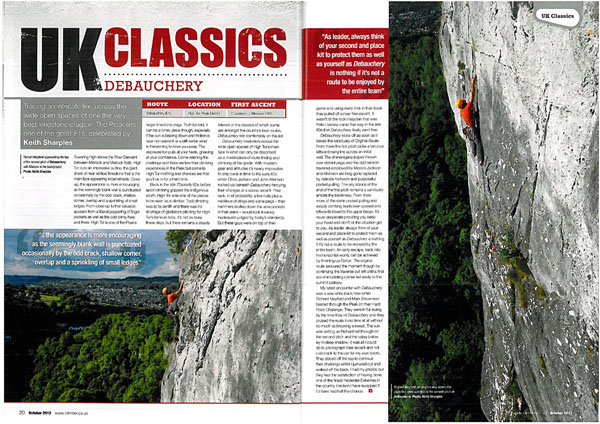 I really enjoy writing these little cameo pieces for Climber as it's an opportunity to let the writing flow a little and indulge. Basically, Climber's UK Classics are around 900 words and a couple of pixs  – sweet little articles that are a pleasure to write.
In fact, the Debauchery piece is quite special. Not only is it a great route up one of the best bits of one of the best trad crags in the Peak but I know the first ascentionist, Chris Jackson and John Atkinson, personally. Sure, their ascent in 1965 left a bit of aid which was duly tidied up byYorkshire's 70's super hero Pete Livesey, but their ascent was quite visionary. I can picture the scene (fairly easily) – a few slings and a few pegs for protection, peg hammers jammed down the back pockets of their jeans. Raw talent, balls and adventure. Wicked stuff!
Shots of Richard Mayfield on the second pitch illustrated the piece. Check it out if you fancy the low down on one of the best E1's around…