Keith Sharples Photography has just gone big into autumn and then some!
A while back, Foundry co-owner and living legend Jerry Moffatt got in touch with me to ask if I had any images of iconic scenes out in the Peak District that they could print up for the wall in the Foundry Café. "Only a zaggillion or two" was my reply…
Since then I sent Jerry a selection of shots to have a look at and he picked out a shot of the Popular End of Stanage in full late autumn colours. It was actually shot back in the days of film (remember them…) so I supplied a scan of said image for printing.
Well I called into the Foundry in downtown Sheffield this afternoon to check out the final result. I hadn't really thought much about it but I was thinking 18×12 inches maybe or perhaps poster-sized. When I got there I was blown away – the Foundry café wall had disappeared under the print which can't be far off 8 by 4 feet! It's a monster print and it looks pretty darned good even if I say so myself.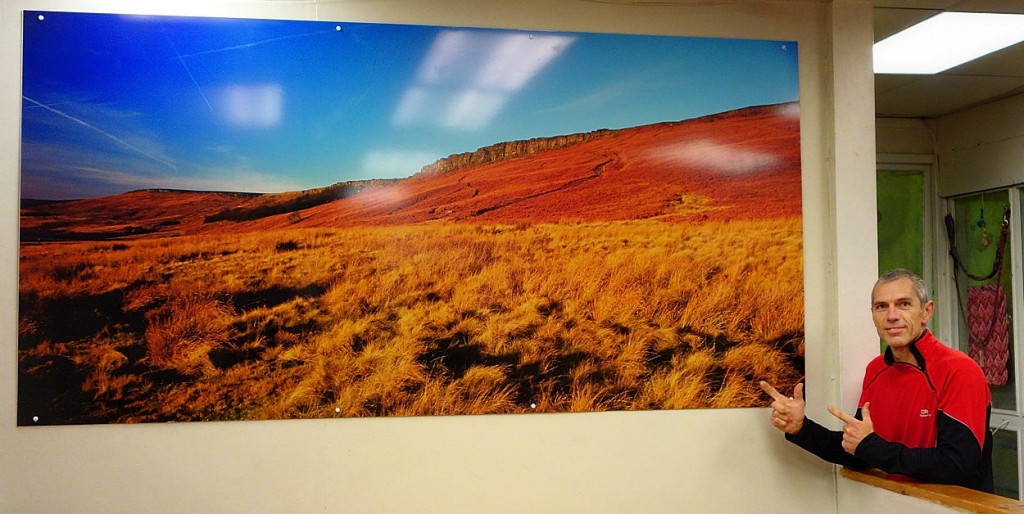 Nip down and take a look see for yourself if you're in the area. Damn fine show skippy… err Jerry…
I've uploaded the original shot and two others below that were taken the same day. As I say, they were shot on film coming up for 11 years ago this autumn. I recall the day pretty well 'cos I'd just nipped out to meet Steve Mac at the plantation and I only had a couple of hours but I felt that the light was so good that I couldn't go climbing and not take the shots. Funny how you remember the minute detail related to some pixs. Glad now I stopped though. Sadly, I've still not done Jerry's Traverse at the Plantation. Maybe one for this winter?!?!
Finally, I should say that smaller prints can be made if required!!