The best bouldering comp climbers in the country went head-to-head over the weekend in Millhouse's Park Sheffield in the British Bouldering Championship and the action was pretty captivating. After three intense rounds, Shauna Coxsey and Tyler Landman collected the male and female titles respectively.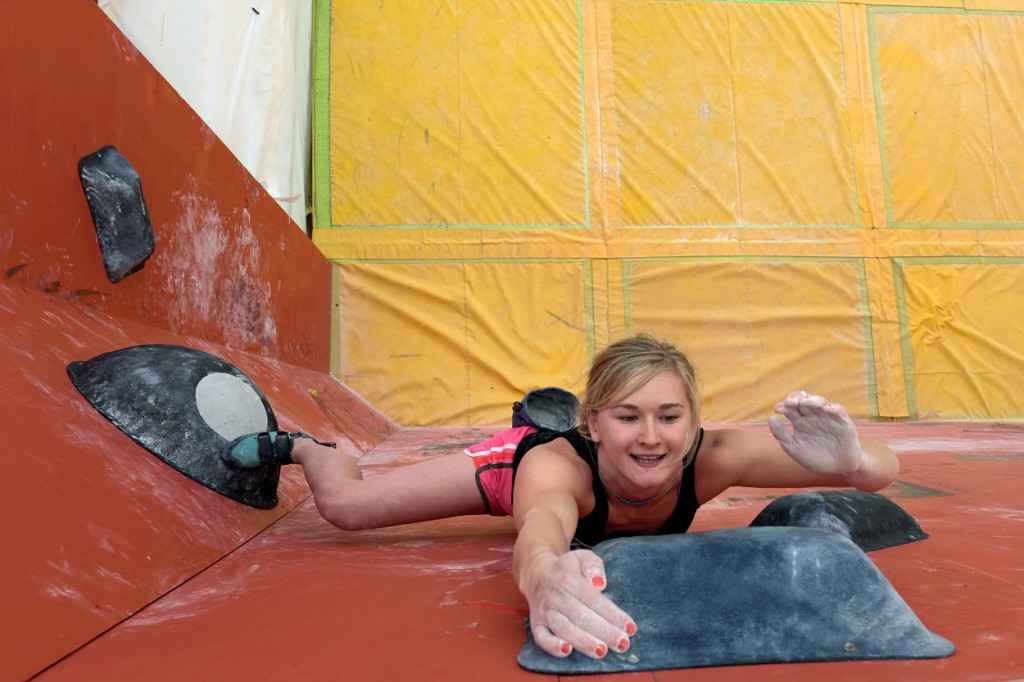 Shauna Coxsey – cruising to another victory
Amazingly, it was the ninth season for the Cliffhanger Outdoor Festival and as usual Matt Heason and his team had done an amazing job of arranging the event as well as the weather which– Sunday morning excepted – was on its best behaviour for once! I've always been lucky enough to get along to Cliffhanger and photo the climbing competition. It's a frantic, full-on, run-and-gun affair and this year was no exception – although for the first time the climbing wall was housed under a bespoke scaffold-based construction clad with white tarps. Previously the wall had been within a dark and dingy 'big-top tent' and photographing the action was always a massive technical challenge in which the photographer wielding the biggest and most mobile lighting units usually came away with the best results. This year was fantastic by comparison – the massive white tarps acting a giant diffuser casting nice soft light on the bouldering wall. As usual the setting team dished-up a veritable mix of the delicate and powerful. Competition climbers are so strong these days that it's not enough to go small and steep – hence there was some dirty vert and blob-city action amongst the blocs as well as some dynos and down-and-out techie stuff in the corners. Most noticeable about the competitors was the number of young guns within their midst – many emerging from the junior classes and looking – if not baying – for success. It'll only be a matter of time before they come away with the metalwork!
The final results were as follows:
Men 1 Tyler Landman 2 Dave Barrans 3 James Garden 4 Orrin Coley 5 Nathan Phillips 6 Billy Ridal
Women 1 Shauna Coxsey 2 Fanny Gilbert 3 Leah Crane 4 Diane Merrick 5 Jennifer Wood 6 Molly Thompson-Smith
Finally, here's a gallery of images from the finals. Hope you enjoy…