Light years past the roll-over into 2016 I've finally pulled a selection of images together that I shot during 2015. It's always an 'interesting' exercise to rummage through the hard drives and pull a selection of shots together that collectively sum-up a years of photographic effort. Even the best made photographic plans change – sometimes, it seems, no sooner than they've been hatched. And so it was for me in 2015 when a couple of major projects rolled effortlessly over the threshold into 2016. No matter really, that offered opportunities for others to come forward.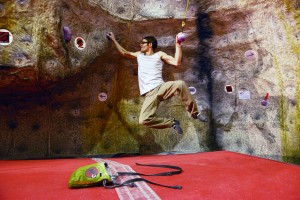 Apart from capturing some winter scenery, my first photo shoot proper in 2015 was F-BO15; otherwise known as the Foundry's 2015 Bouldering Open competition. Shooting climbing comps is more often than not nails; the action is fast moving, the ambient lighting at best challenging and the use of artificial lighting difficult in crowded locations. Finally, getting a good angle/shooting position is usually nigh on impossible. It's usual therefore to 'shoot on the fly' which is pretty difficult but when it works it's pretty satisfying. The year before, at F-BO14, I'd caught Stuart Littlefair attempting one of the 2014 problems feet-first. There was none of that in F-BO15 but there was some 'swinging ball action' that was pretty interesting to shoot. Shooting super-low, I managed to capture Ethan Walker just coming off the swinging ball. A suitably positioned chalk bag provided some nice foreground interest and hence depth in the shot; result! In F-BO14 Stuart had taken Ben Moon's place in the final but Ben Moon v.2015 was there in force – in fact he crushed all before him turning in a (well-deserved) winning performance. Ben's company sponsors one of the walls at The Foundry and I managed to get a shot Ben powering up the hardest bloc with his logo on the wall behind clearly in shot; I thought it was a nice bit of 'later wow' though I doubt many other folks even spotted it. C'est la vie…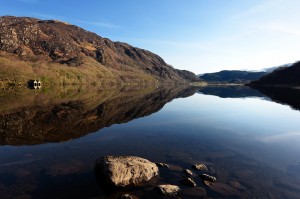 Following F-BO15, a wet and soggy walk down an in-spate Padley Gorge seemed to signal the end of winter. Spring always seems so fresh and the light so clear after the misty, muggy days of winter; the woods turn blue with blue bells and it was all rather pleasant. Even a cloudy day didn't spoil a rare solar eclipse – in fact it gave it a haunting look. Spring 2015 went past in a flash to be honest; I find that's what happens when I get engrossed in a climbing project. Success nearly came in April but I managing to snatch defeat from the jaws of success so the process of turning up and trying hard soaked up time; time that should really have been spent elsewhere. Finally, following a trip to a scenic Wales, the Eastwood Double was done and I could move on.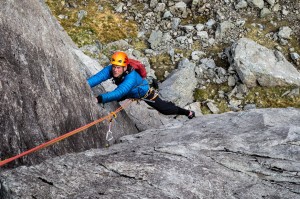 Moving on took the form of starting my limestone campaign for the year plus a couple of trips away; firstly to Scotland and then back to Wales. Scotland first. This was a four-day trip with Paul, a grand master of the 'quick hit'. The weather was fantastic so for Day#1 it had to be a monster 12-hour outing onto Cairn Dearg Buttress on the North East face of Ben Nevis. Torro, a totally fantastic E2 – maybe even one of the best on a big mountain cliff anywhere in the UK – was our reward. An amazing route up the middle of the crag just left of Centurion; I'll happily recommend Torro to anyone climbing at that grade and looking for a full-on mountain experience. It's perhaps worth knowing that sorting a belay at the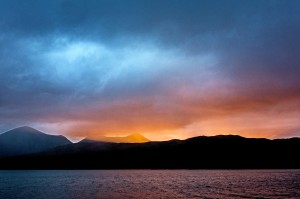 end of Pitch 3 is 'rather interesting', that the fourth crux pitch suffers a bit from seepage ad the final pitch is definitely a sting in the tail. Overall it's a great route; defo a four-star experience. The descent afterwards wasn't totally straight forward; dropping into the gully which was still full of snow was quite interesting in trainers! The Isle of Skye called next and over the bridge we went; sadly, arriving with the doggie weather. Rain stopped us from getting involved at Kilt Rock but dry rock near Niest Point was duly located along with Bad Dreams (E3 5b, 5c) and that felt more than adequate as a consolation prize. And the views over Niest Point were stunning. Equally excellent was Whispering Crack (E3/4 5a, 5c) at Rubha Hunish – the most northerly point on Skye – which provided the entertainment the following day; a day so cold and windy that a t-shirt, a thermal, a fleece and then an outer wind stopper together with two pairs of trousers seemed scant protection against with the fresh connies yet way too many clothes to be wearing for leading a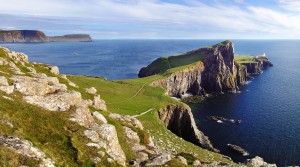 hard and physical crack pitch. And what a pitch as well; amazing in fact, the best 45m crack pitch I've lead for ages. And still the wind blew on Day#4 – so much so in fact that we sacked-off our intended target and instead slunk off to Glen Nevis were we collected a couple of fine E2's – including Plague of Blazes (E2 5c) – for our troubles before heading south.
I'm embarrassed to admit that in all my years of climbing – 40+ now and counting – Cloggy is one of the cliffs that had passed me by. The forecast suggested a settled period and a plan was duly hatched. We left Sheffield just after 4am. By 7am we were walking into Cloggy up the railway track; a lifelong ambition was unfolding. Occasionally, a photograph of a climber on an iconic route is etched into your mind's eye. Ken Wilsons' shot of Ed Drummond on the first pitch of Great Wall was such a photo for me; the cliff all dark and moody and Drummond dressed in seemingly virgin-like white. It didn't need any discussion; Great Wall was the #1 target. I got the first pitch and Paul lead the second. Both were quite different and thoroughly enjoyable. We could discuss, as hundreds already have, whether Great Wall is a stiff E3 or an easy E4; in a way it doesn't matter as long as it's suitably described – either way it's an absolute crac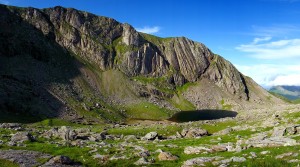 king route, sustained and interesting. Hacking up the vegetation above to top out was a bit of a downer mind you, but it's not too long a scramble and it's alright really. The Axe (E4 6a) seemed like a sensible follow-up pitch. Paul's lead was suitable steady although I think I may have heard a few squeals of anxiety now and then. Seconding, I was grateful that had any of the thin and seemingly hollow flakes actually parted company then I'd be swinging out in space rather than taking a ride downwards onto a doggy cam sat behind some doggy flake. Another great route – especially to second!
July came round pr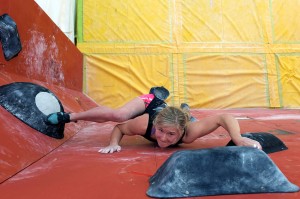 etty fast and with it the BBCs – British Bouldering Championships – at Cliffhanger, Sheffield. It was a pretty fancy set-up at Cliffhanger again and, not surprisingly, the respective titles were keenly contested. Photographically, the white tarp which covered the temporary wall acted like a giant diffusor so – for once – there was plenty of light which at least solved that problem. Access was, sadly, the usual nightmare however; swinging around on scaffolding and scrambling up the back of the wall avoiding the business end of literally hundreds of screws! It's always pot-luck whether to shoot from the floor or hanging off the top of the wall and I usually mix it up a bit to get some variety. As it was I got lucky on one of the blocs as I was shooting straight down as Shauna was eye-balling a finishing hold. Part way through the finals I dropped down to the mats and shot a bunch of problems at floor level which gave a totally different perspective, not least as I switched to a long lens and used a wide aperture. It was a great afternoon and Shauna Coxsey and Tyler Landman were the worthy winners.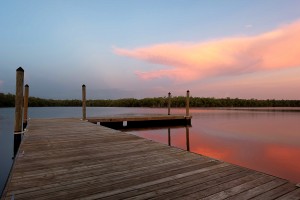 In late July we set-off to go to the USA. The plan was pretty simple; fly into Orlando, pick up a car and then nip down to the Everglades to check-out some of the local wildlife, back up to Florida for a day at Universal Studios, pull an evening visit to Cape Canaveral to watch a launch, cruse up to Charleston, then hop on an internal flight to Boston and then finally back down to The Big Apple. A simple plan I'm sure you'll agree; what could go wrong?! Actually, it did roll out pretty much as per the blue-print; save the launch at Cape Canaveral which was binned-off at the last minute due to doggy weather at launch site. It's tricky pulling out favs or best memories – we seem to get so many in the trip. The 'gators in the Everglades were well-worth seeing and pretty much as billed; what was a bonus though was the sunrises/sunsets over the waterfronts. The Ringling Museum and Ca'D'Zan in Sarasota Bay was something of an oasis and defo worth a look. Being Stateside, a trip to a baseball match was clearly in order; in the end we caught two although watching the Red Soxs play in Fenway Park was very much the real deal as well as a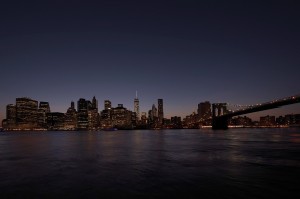 great opportunity to capture some totally different action. Ditto, some of the sights in Boston; I'm thinking mainly of the Holocaust Memorial and the War Memorial to the US fallen soldiers were especially haunting and reminders of a past. An afternoon walking round the Harvard University complex restored a little balance. New York was crammed with things to visit. Staying longer and doing more would perhaps have been overdoing it and we lift happy with what we'd seen; Grand Central, Times Square, Central park, Rockafella Centre, Empire State Building, Ground Zero, State of Liberty, Brooklyn Bridge and last but definitely not least, Manhattan skyline at night.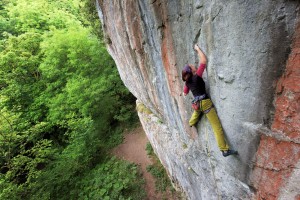 Peak limestone is bread and butter for me photographically and climbing wise. The climbing connies during September and October were pretty flipping good – right up there in fact with the best it's been for quite a few years – and when it's that good Chee Dale is the place to be; especially The Cornice. My long-term climbing project there grabbed my attention so photography suffered a kick-back to be honest – it's super hard to focus (no pun intented) to do both. I did manage to get some shots thought – not only at The Cornice, but also at the altogether more demure Nettle Buttress. It's great to shoot at these places mid-week when it's quiet – but you have to take your opportunities when they present themselves. Oh, nearly forgot, some nice fungi down there too in the autumn.
Looking back now the back end of 2015  wasn't especially productive on the photographic front. However, a weekend visit to Buttermere in the Lake District proved rewarding on several fronts –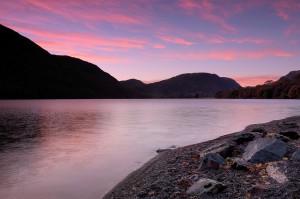 defo photographically. For starters, let's say that the weather was changeable; both days started with rain and both days finished with glorious sunsets – the autumnal colours were, as expected, pretty intense. Buttermere is one of the more photographed locations in the Lakes and its pretty obvious when you go you'll see why – a great photo op around every corner; loved it! Rather more 'off-subject' for me was a trip to MIMA – Middlesborough Institute of Modern Arts to be exact. It was a flying visit but an interesting one nevertheless. Recommended if you're in the area.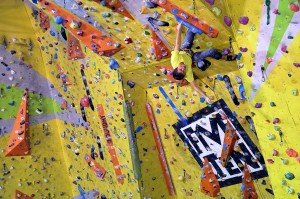 With 2015 coming rapidly to an end some disparate climbing subjects wrapped up the year for me. I'd got a couple of the Crusher Hold new Slaves to test and review and needed a couple of product shots to accompany said review. A straight product shot plus a product in use provided a rare opportunity to get a little bit creative with some close-ups. Finally, shooting some promo shots for The Foundry for marketing and then the Mammut University Lead Challenge finished the year almost where it had begun! I'll blame the lousy weather in the autumn for my totally lack of outdoor shots but, in truth, I think it was a poor show on my part for not making the best of what was available.
For the full gallery of shots from 2015 Captured click through here…