Peak Rock was officially launched into an expectant world last weekend at a celebratory bash at The Climbing Works in Sheffield. It was a veritable who's who in Peak District climbing with the good and the great all turning out to welcome what will undoubtedly prove to be a seminal title into the already rich world of climbing literature…
Peak Rock, if you haven't heard, is a celebration of the cutting edge and significant developments in Peak District climbing from the very beginning when James W Puttrell kicked the sport off at Wharncliffe right up to the present time. The project, which was originally started back in the early Eighties, was the brain-child of SUMC (Sheffield University Mountaineering Club) member, Giles Barker. However, his untimely death in a caving accident in 1992 meant that his work went unfinished. And so things stood for nigh on 20 years until Rock Archivist, Phil Kelly and Peak aficionado, Graham Hoey started the ball rolling again in a push to complete the job that Giles had started. So, having updated Giles's original text, Phil and Graham then pulled a team of local eminent climbers/writers together to add further chapters to cover the most recent developments. Eventually, after a mountain of effort by the team, Peak Rock has finally been published by Vertebrate Publishing.
Contextual intro duly completed, let's get back to the launch party on Sunday night which was about as glitzy and swanky as it gets in climbing. Think Oscar's, but drop the tuxedoes, evening gowns and champagne for jeans, duvets, beanies and beer and you're about there! There were also some indoor fireworks, but they came later and they weren't exactly what the organising committee had planned!!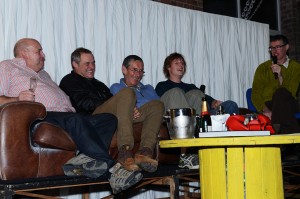 Host for the night was none other than would-be, stand-up comic, Niall Grimes. A four-man, heavyweight team of rock stars slowly climbed (sic) aboard the stage to join Grimer who extracted the proverbial from each of the said rock stars in turn. Ron Fawcett was first under the Grimer cosh, then Jerry Moffatt, John Allen and finally Pete Whittaker. To a man they all squealed and squirmed under the weight of Grimer's ever so slightly off-the-wall questioning but they fought gallantly on determined to regale the audience with their wit and erudite comments. No doubt the booze, served in liberal quantities by Mark Leach, help lubricate – and liberate – their innermost thoughts. Ron, having trotted out the 'marigolds in the bath story' again, went on cheerfully to tell the audience that he and his former globe-trotting climbing chum/mentor, Pete Livesey, took great delight in nicking other people's lines. "No namby, pamby messing about in those days!" Jerry delved back into his early days with stories about his first meeting with Ron at Craig-y-Forwyn and then his time in the Stoney wood-shed. Looking for the controversial angle, Grimer then gifted Jerry with the opportunity to 'star rate' a number of climbers – some of whom were well-know (to those in the know that is) – as being on Jerry's 'B-list' (polite moniker). Interestingly though, he did smile as he low-scored some on Grimer's provocative list – perhaps suggesting that with the passage of time he has mellowed a little? Pete Whitaker was introduced into the proceedings as the Young Pretender, a position clearly supported by his new routes of which he was only too happy to talk about rather than get embroiled in Grimer's rabble-rousing questioning. However, it was John 'The Boss' Allen who gave what was perhaps the unexpected star performance from the sofa. His one-liner, put-downs were highly entertaining and little short of acidic. A classic example came when Grimer asked him if he felt that things had moved on significantly when Johnny Dawes did End of the Affair on Curbar. Without a pause John, lowered his head and his voice and grunted into the microphone – "No, I was just bitter!" The Boss's wrapped up by sharing some of his hard-earned lessons too; ""stay off the pies, lads". A class performance Mr Allen!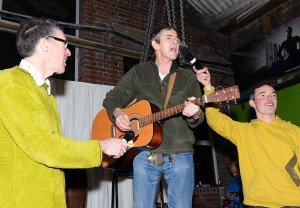 Following the half-time interval Steve Bancroft hit the stage with his guitar – not literally of course, that would have been too rock and roll. Then followed an auction of a copy High Peak, the 1960's book which – previous to Peak Rock – was the Peak District history book of choice. Paul Pritchard and Grimer, pumping the crowd, succeeding in extracting a shocking three-figure sum from Graeme Alderson in exchange for said copy of High Peak to the cheers of the audience.
The rest of the second half was more about audience participation, although when the spot-light was spun onto one mega rock star from the Eighties who was present in the audience he (sadly) couldn't find it within himself to embrace the spirit of the light-hearted evening.
Without a doubt the evening the majority there thought that it highly entertaining and a fitting launch to Peak Rock. Both charities CAC (Climbers Against Cancer) and the MHT (Mountain Heritage Trust) finished ahead of the curve – as they say – from the evening's activities. The Barker Family have eventually seen the fruit of Giles's labour although as it's already out of date and thanks to the advance sales which appear to have accounted for half the print run, maybes work should start p.d.q. on the 2nd edition! No resting on your laurels please messers Kelly and Hoey…
Finally, then here's a gallery of images from the evening.