Word on the street was that Leonidio – the latest 'must-visit', off-season, hot-rock, Greek destination – was the new Kalymnos! Experience tells the savvy climber that new destinations have a habit of being over-hyped; Leonidio however, sounded a little different.
A team was pulled together and flights booked; it was time to go and investigate. Nothing ventured, nothing gained and all that...
Steve McClure, Simon Lee, Rab Carrington and myself hit the tarmac at Athens International in December 2017. However, we were far from alone in our mission to boldly go. Another team of Brits comprising Chris Gore, Martin Atkinson, Chris Plant, Chris Hamper and Phil Burke were also there on a similar mission. It turned out that Dani Andradi and a number of other Spanish wads were also there cruising round the crags as was a small international team of ladies which included Daila Ojeda and Olivia Hsu. Plenty of other climbers were also there – maybe a couple of hundreds in total albeit all spread out in the various Airbnb's scattered about Leonidio.
We picked Elona from the guidebook as the first crag to visit and what a crag it turned out to be! Barring a dozen or so routes which date back to the late 2000's, most of the routes there had only been climbed in the last couple of years. If Elona was anything to go by, Leonidio really was starting to look like a treasure trove!
Elona's overhanging tufa garden hit us between the eyes and knocked us for six; it really was very good indeed! Without a doubt, Elona is a world-class wall giving world-class routes.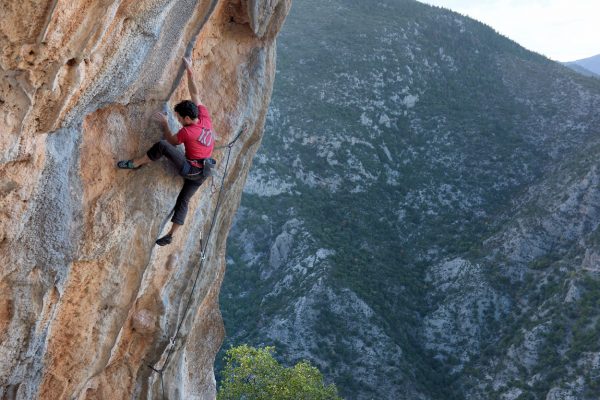 Nifida also has some pretty amazing routes including Bersteingerkante F7c+ and its Ext F8b+; one of Dani's mates on the initial section
Whilst I would have been perfectly happy to spend the entire week at Elona – yes, those tufa lines really are that lush – Nifadia is yet another excellent crag just round the corner from Elona. A deep central cave divides the left and right hand sectors of Nifadia, both of which – like the central cave – have some very steep routes on them.
Elona and Nifadia were great crags but we still haven't even scratched the surface! Next up was H.A.D.A., that too was rumoured to be another great crags so yep, we had a day there as well. It's a bit of a hike up a secondary valley but very much worth the effort; another stonking crag and one with an absolute mass of new-route potential.
In total, we had a week at Leonidio and what a week it was! To be fair we hit it lucky; pretty much every crag was done-dry. Some other friends from Sheffield visited a month or so later in January 2018 and they reported back that they weren't quite so lucky; as with many places the weather isn't totally reliable so the crags can be quite wet after a prolonged spell of wet weather. It also appears that it's not unknown for a dusting of snow to be on the ground in January either.

The half dozen or so crags we visited are literally only a handful of those at Leoindio. For more details on the routes we climbed and the of crags we visited, check-out my article in the latest issue (March- April) of Climber Magazine which has just hit the shelves.
BTW, there's a new guide out now for Leonidio and Kyparissi. It's got around 1700 routes in, mostly at Leoindio. It's well worth getting a copy even if you have the older version. A full review will appear in the next issue (May-June) of Climber.
And the take-away; yeah, there's an abundance of great routes spread across a plethora of amazing crags at Leonidio. It's certainly an excellent alternative winter venue destination. Whether Leonidio is the next Kalymnos is hard to say – best go yourself and make your own mind up!