Yep it's official, Climbing 2013 – my 9th climbing calendar – was back from the printers mid last week and is now shipping…
As I said in an earlier blog about the calendar, this year feels like it's been something of a long haul on account of the lousy weather. However, seeing all the calendar boxes piled up is definitely exciting, finally all that effort has produced tangible results. As an aside, not only do the calendars physically occupy a surprising amount of space but they also have something of a pungent smell! Bundling them into packages and shipping them out is a tactile and a cathartic experience – the final leg of the long haul.
I'll include a link to the calendar images and pages later in this post but I'd like to give you the full griff first. I was really pleased with the redesign for last year's calendar but, as with many things, further modifications come to hand during the year. Firstly, I've gone with a snazzy glossy laminate on the cover on Climbing 2013. Secondly, I've shot landscape images only – as opposed to a mix of landscape and portrait – this year and during the pre-press work in the design studio we figured that they just begged to be run with full bleed, ie no border. And whilst I'm talking about images, the bulk of them have been shot on my new D800 and I think that the increased dynamic range and resolution of Nikon's flagship hi res DSLR has given a noticeable boost in the image quality. To complement the images I've included longer captions again. And finally, the date grids have been re-gigged so that the weeks run Monday to Sunday so that plans for the all-important weekends can be kept together. All small mods for sure, but important ones nevertheless which I think have given Climbing 2013 a real boost.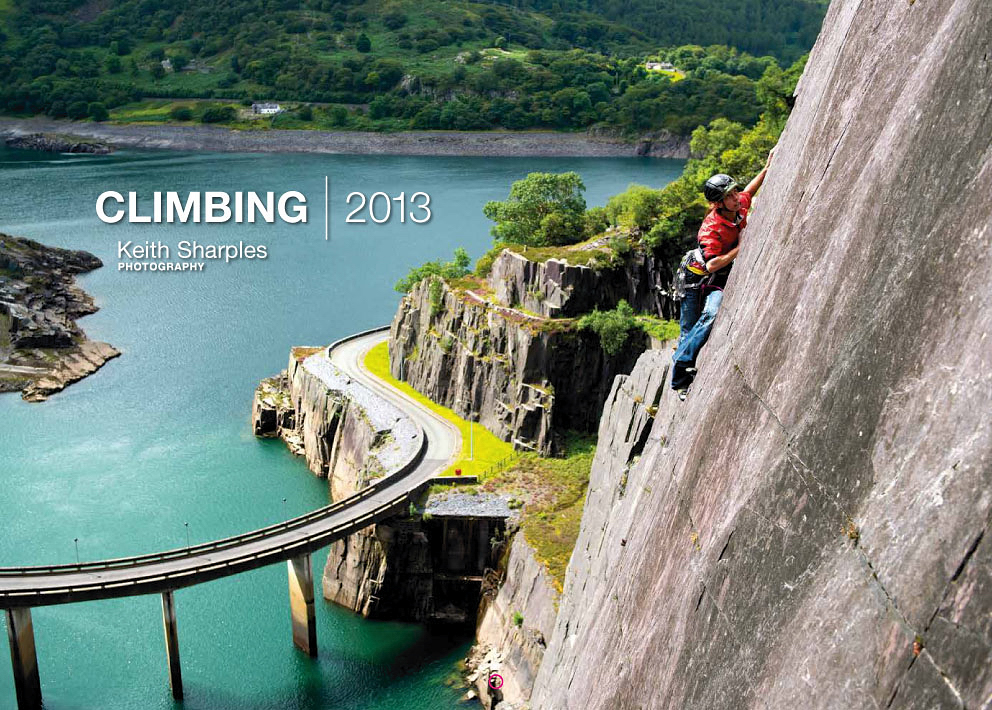 The aforementioned lousy weather played havoc with my intended photographic coverage but I've tried to stay as true as possible to the usual and deliberately eclectic mix of venues, routes, climbers and rock types. Once again the 'Be in my Calendar' competition winner, who this year is Becky Lounds, headlines on the front cover of Climbing 2013 climbing Pull My Daisy (E2 5c). Becky also features climbing German Schoolgirl (E2 5c) in March. Both are in the Rainbow Slab area in Llanberis slate quarries, Snowdonia. As usual, Climbing 2013 features plenty of grit action with shots of the uber classic that is Eastwood Traverse as well as Brimstone at Millstone and Goliath at Burbage South. Limestone action isn't ignored either – that would have been rude – so Raven Tor, Two Tier – Chee Dale and Kilnsey complete the role-call from the Pennines.
Further up north, as they say, the Lake District is well-represented with shots at Little Font in Kentmere and Bowderstone Crag. Off the beaten track shots – as it were – come in from the Blueies (ie Blue Mountains) down-under in Oz, Dry-Tooling in North Wales and British Bouldering action from Cliffhanger.
So as I said – Climbing 2013 is now shipping and copies will be winging their way to climbing walls/shops across the county forthwith. However, if you want you copy direct from the calendar stash in KSP HQ then you can order your copy – postage and packaging included – from the KSP e-shop right here. And if you want copies of the Climbing 2013 Year Planner/Poster then you can get them from the KSP e-shop too.
Finally, to see the images in Climbing 2013 click here or to see the pages click through here…