With five weeks to go before Chrimball, the blue skies and crisp ground frost on Sunday morning signalled that the weather had definitely turned and that the 2012/13 grit season was on us. And for most folks it's not a moment to soon given the lousy wet summer we've just had to endure…
The fabled minty conditions were wide-spread in the Peak yesterday and hence the car-parks and crags were (not surprisingly) pretty busy by mid-morning. In search of a bit of solitude as well as some early season, confidence-boosting, never-done-before ticks, I headed for The Walnut below Baslow Edge. I'd been wanting to get there for ages but it had never quite happened. The bouldering bible (Peak Bouldering by Vertebrate Publishing) warns of a difficult approach through bracken to get to The Walnut. Boy, they're not wrong! Thrashing through (at times) chest high undergrowth my legs were soaked by the time I'd got there – not quite the start to the day I'd planned but not the worst thing that had ever happened to me. Next time I'll read the guide a bit more closely, that way I'll stand a fighting chance of finding the path on the walk-in.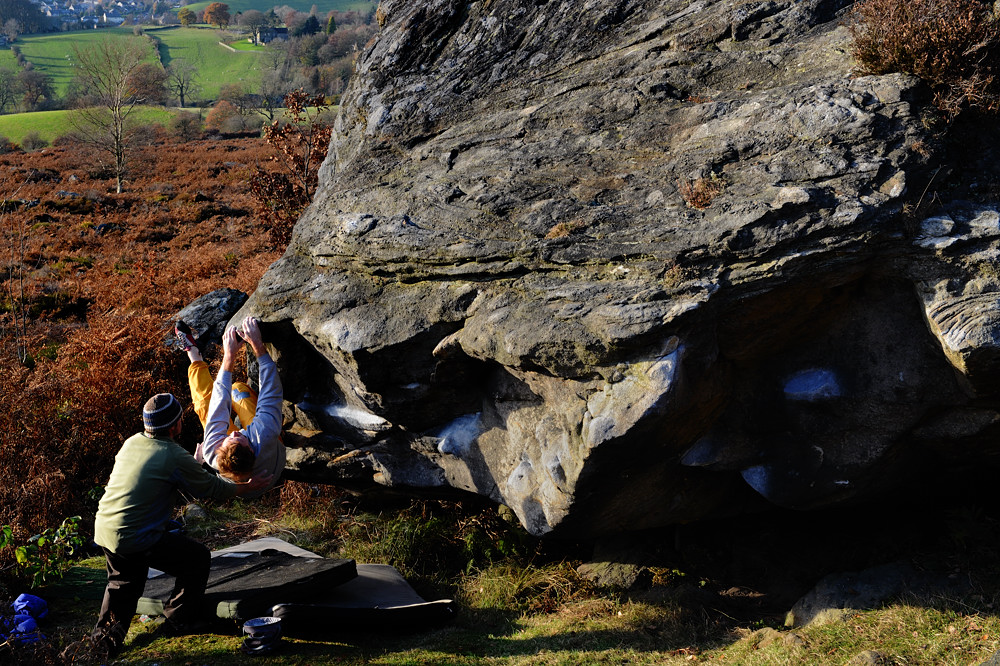 There's only 15 odd problems at The Walnut but most are well worth doing. The Walnut is in fact two boulders scrunched up close together giving the impression that it's a single bloc.  The easier problems are on the (then) sunny south-facing side of the southern bloc with The Walnut (Font 6c) taking the best-in-class prize. It's something of a gift at that grade – but let's not tell Ru that or he'll knock the grade back in the next guide! All the other problems on this face are straight-ups – typically from sitters. The rock is as rough as it gets too so if you're popping for holds aim well. The hardest problem on this face, Whip Me, Whip Me (Font 6c+) from Mark (Zippy) Pretty starts by tunnelling in right underneath the hanging groove. The hardest part of this problem TBH seems to be keeping your ar*e off the floor whilst swinging around on sloping shelves and it's definitely NOT a gift at this grade. And don't worry, I will be having a word with Ru about this one when I see him next.
The north-facing side of The Walnut houses predominately harder problems – up to Font 7c+ – and it climbs quite different too. Little Richard (Font 7a) is short, hard and surprisingly snatchy and a great little problem. The harder stuff on that face all involve slopers and small crimps and needed way more skin than I had left. Least that was my excuse for leaving for an early bath. Surprisingly, two other teams rocked-up whilst I was there so it's obvious that The Walnut is more popular than I'd thought. Satisfied that I'd got a few ticks and clicks, I headed home as the sun started to sink. I felt I'd gotten my grit season off to a half decent start and hope you did too…