So, as they say, Climbing:2014 is now back from the printers and is now shipping…
Climbing:2014 is my 10th consecutive climbing calendar and man, has the time flown by or what! I've gone with the same landscape design that we've used for the last few years along with the glossy laminated covers and full bleed landscape images. There's a year planner/poster included too within the calendar for inspiration and/or organisation. Oh yeah, and it's the same killer price that it's been for yonks – a quid a month plus a tad – that £12.99!
For a change the weather has been little short of amazing this summer and what a joy it's been shooting in better weather. Not only does it lift the images but it's opens up other venues and puts a smile on folks faces when they're out climbing! I'm tempted to say – if only it were like that every year!
The front cover is a shot of a little know route on Castell Helen, – Hanging out at Glastonbury (E4 5a, 6a, 5c, 5b); Neil Foster is captured cutting a trad pose as he completes the traverse on P1 above a growing abyss. Kicking Climbing:2014 off with a seasonal image is a shot of a lone winter boulderer on Conan the Librarian (Font 6b+) at Mother Cap. More grit action comes in the (classic) shape of Trust (Font 7a) on the Fourth Cloud Boulder and Surform (HVS 5b) on the mighty leaning block that is Higgar Tor. Sandstone is the represented by one of the finest UK 'red rocks' venues which is St Bees whilst Sissy Crag down-under is the counterbalance down in the southern hemisphere.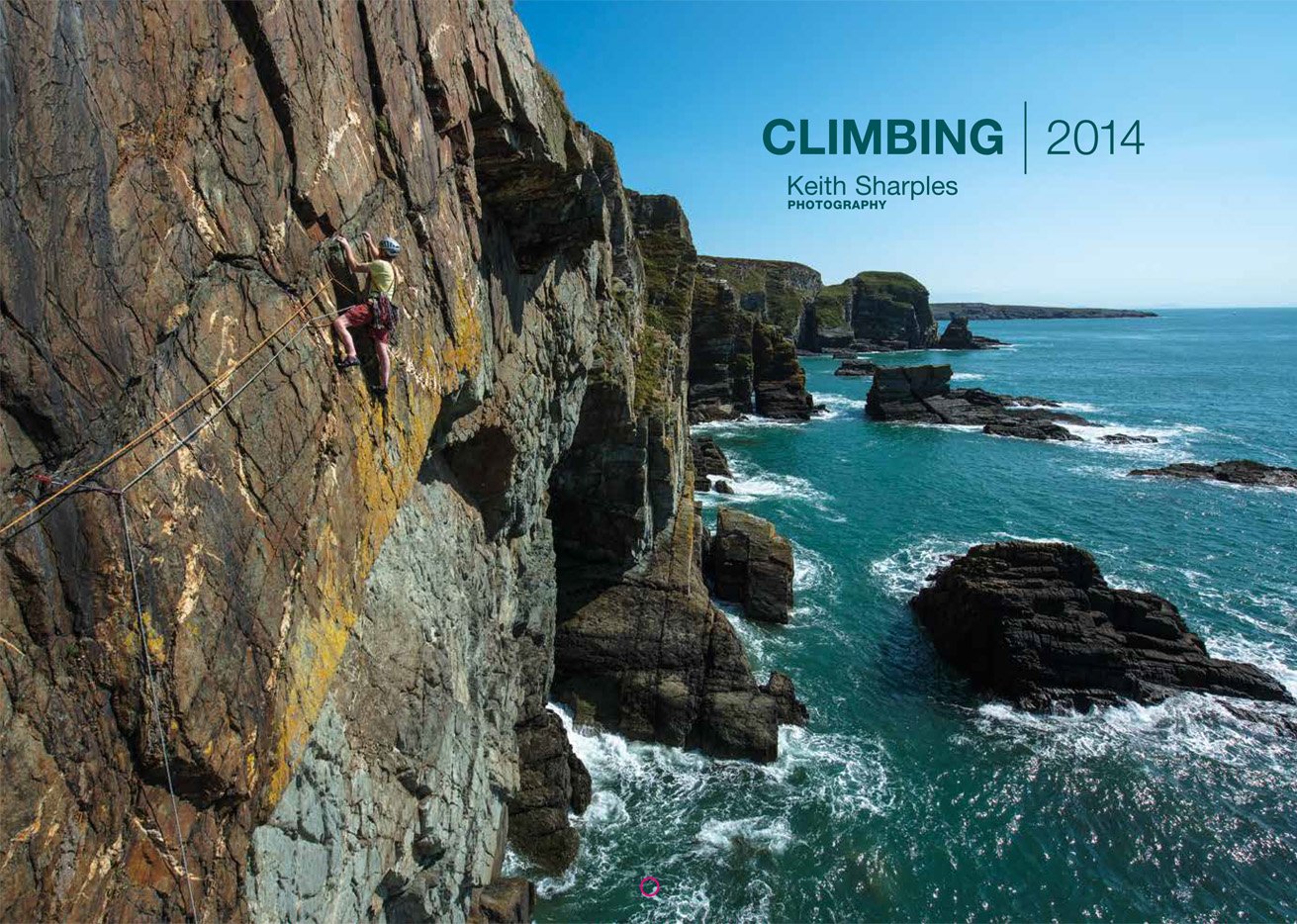 Sport climbing action includes cave Route Left-hand (F7c+) at Gordale, Bat Route (F8c) at Malham, a mega project over on the Little Ormes and some pocket pulling madness in the Gorge du Tarn. That leaves some under-canvas action from the BBC's (British Bouldering Championships) at Cliffhanger, some monstrously high DWS at Rhoscolyn and then some classic mountain rock from Dinas Mot in The Pass. It's a pretty eclectic mix – as intended!
Copies of Climbing:2014 will be popping up at climbing walls/shops across the county pretty soon now. However, if you want you copy direct from the calendar stash in KSP Towers then you can order your copy from the KSP e-shop. Copies of the Climbing 2014 Year Planner/Poster can also be ordered from the KSP e-shop too.
Finally, to see the images in Climbing 2014 click here or to see the pages click through here…