As most of Yorkshire knows only too well, it's all over in a second of two! Or at least that's how it seems if you stand by the roadside for several hours to wait for the greatest bike race in the world that is Le Tour (a.k.a. The Tour du France) to go past. Out of all the places that we could have watched Le Tour, Jawbone Hill in Oughtibridge was where we washed-up. As one of the top-ten places listed on the Sky website – we figured it would be good. For starters, it was on a hill so the riders would be going slow – right? Access wise – Jawbone Hill camping was right there too, with its built-in ringside (ok… roadside…) viewing. Double bonus. All we have to do was rock-up late Saturday, pitch the tent and wait up for the great show on earth to roll past. Piece of cake – what could be better or easier for that matter?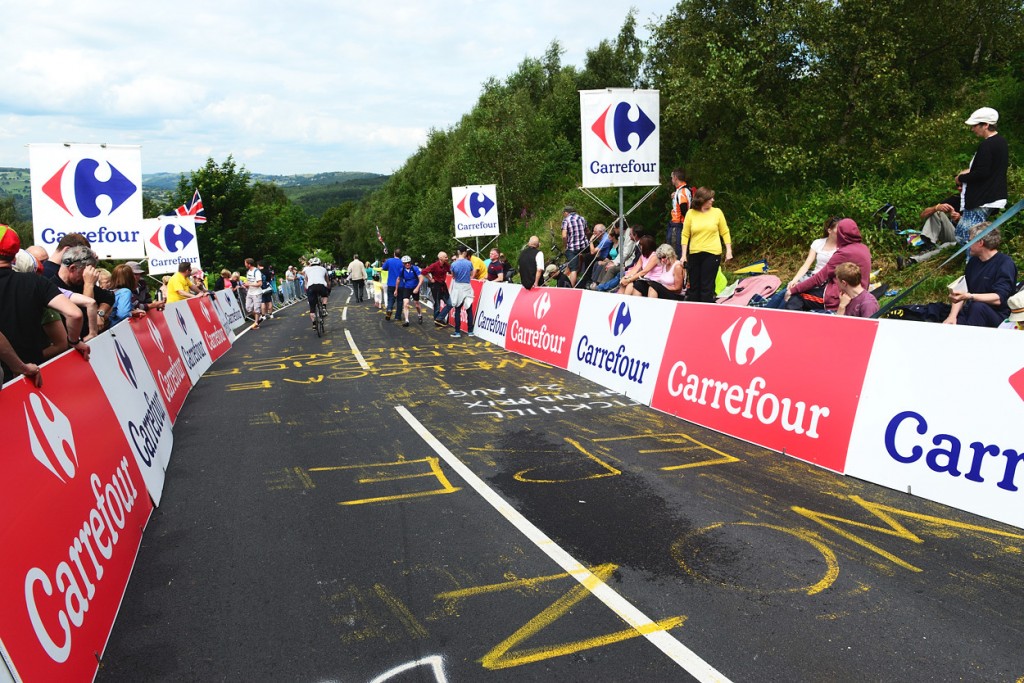 There's no shortage of erudite cycling commentators far more qualified than me to talk about the actual race itself – so this post is more about shooting Le Tour from a roadside shooters perspective. Thanks to Google Earth I had already driven up and down Jawbone Hill several times in the comfort of my own house to get an idea of where might be best to photograph from. I'd worked out where the sun (assuming it wasn't cloudy) was gonna be in the sky (sic) and roughly which sections would be back-lit and where would be in shadow. Sadly though, there were still many known unknowns. How many others were going to be roadside too? Would the crowd all surge forward and block the view? Would the weather play ball or would we be treated to a day of interminable grey or worst still, rain? Would there be any restrictions to moving about as spectators? More questions than answers so it seemed like it was all going to be a bit of pot-luck. Walking up Jawbone Hill it was obvious that it had a number of steeper ramps and a steep(ish) finishing straight. By 10am on race day Sunday 6th, some 6 hours before the action, the frontline viewing spots behind the roadside barrier on the finishing straights were already taken! Folks sure seemed keen but I guess 6 hours for a ringside view of Le Tour might not be an unreasonable return?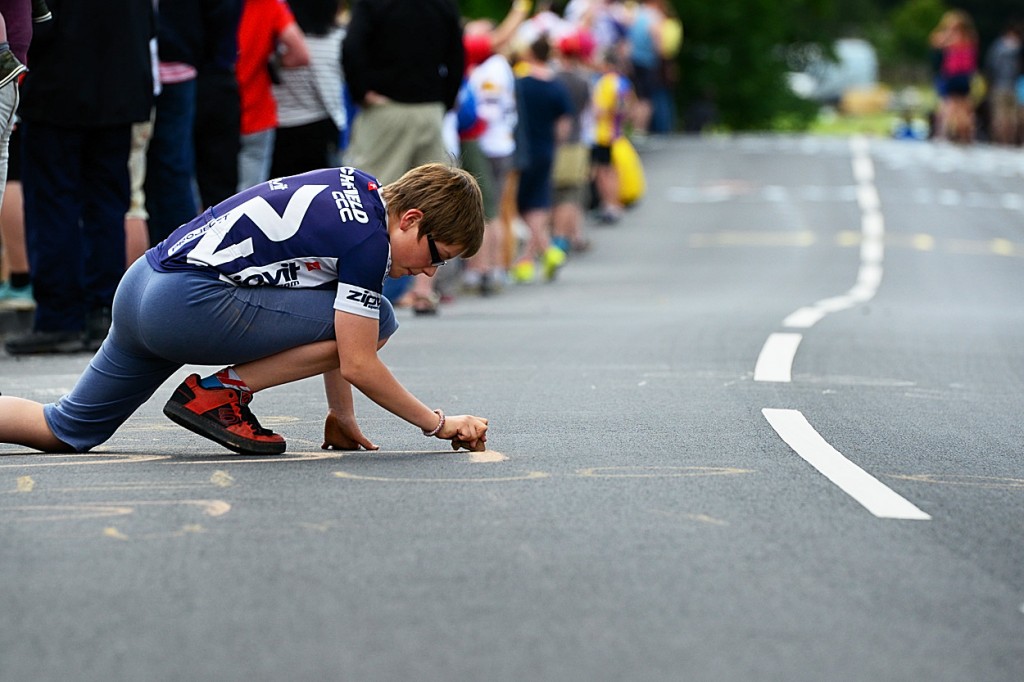 In the end I settled for a position on about half way up Jawbone, on the beginning of the outside of a bend which came after a decent straight. Waiting for the riders gave an opportunity to try out some angles and do some crowd watching. I was pretty chuffed with one shot especially which for me summed up waiting for the TDF when a young gent got down with the vibe and worked on his TDF Road Art. I would have been rude not to snap some of the more memorable aspects of the TDF 'caravan' has it rolled past and it was an opportunity to practice focus tracking and panning.  By the time the helicopters arrived and signalled the immenent arrival of the riders themselves I'd distilled my game plan and was sorted. Rightly or wrongly I'd decided to shoot the first group of riders as they approached my position with a 70-200mm then switch to a 24-70mm mid-range for the close up stuff as more riders came past. I added an on-camera flash, with a booster pack for faster recycling, to fill the shadows. I opted for a wide aperture for the telli shots – primarily to separate the action from the background but stopped down a bit for the mid-range shots to give more depth of focus.
Anyways, here's my shots as the caravan and Le Tour tackles Jawbone Hill. I think my game plan worked ok although it nearly fell on its derier as I'd not factored into the equation that ahead of the first riders is the official red race car – complete with outriders – which nearly obliterated the long shot down the road look that I was after. Totally by luck than judgement as the opening group came towards me I was able to snatch a few shots of the riders once the lead vehicles had pulled past. It hard picking a 'best shot' but this one sums up what I'd envisaged.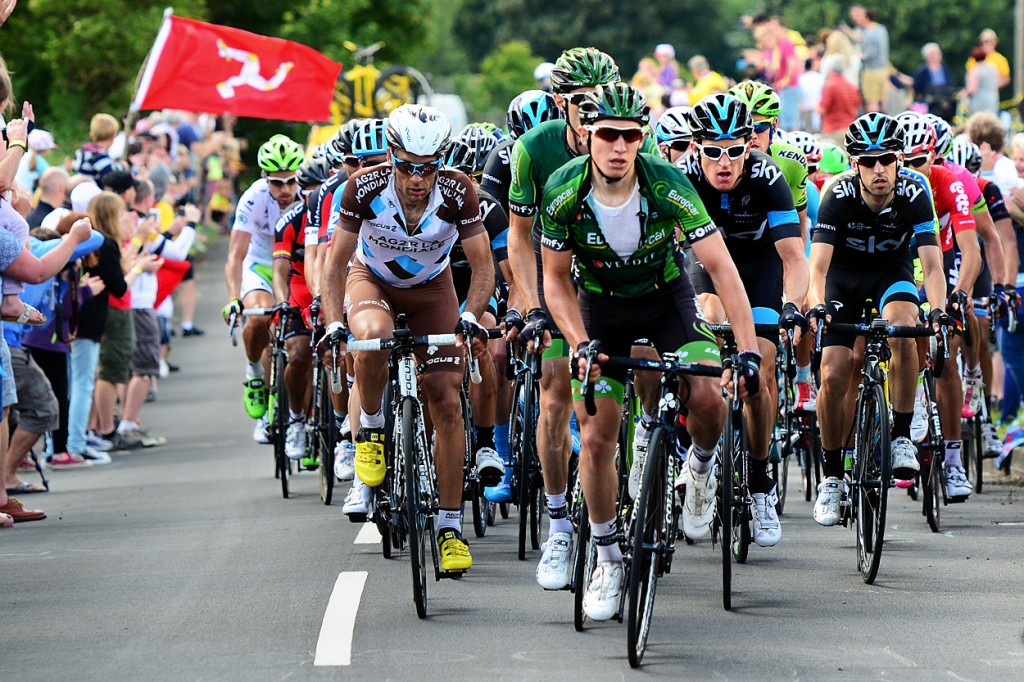 Apologies for the delay in posting – technology failure caused by the BSoD (Blue Screen of Death) took a wee while to get sorted – but here at last is a full gallery of the day…